Podiatrists in Austin
Are you looking for a foot & ankle doctor in the Austin, TX area? Then you've come to the right place!
We serve the Austin metro community and are dedicated to providing high-quality foot and ankle care. Our qualified podiatric physicians (foot doctors) specialize in foot ailments including foot pain, foot injuries, diabetic foot ulcers, hammertoe surgery, and bunion correction surgery.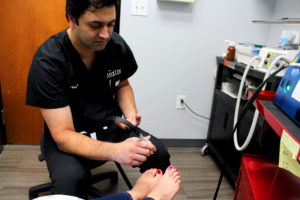 Here's something you've probably never heard before. Your feet are more than just the foundations you stand on. They are foundations for your overall health. In fact, many common and not-so-common health concerns begin with your feet. Problem is, most doctors don't think to look at your feet first for signs of trouble.
At Austin Podiatry Centers, our foot specialists always look at your feet first. Even if you complain about a problem that seemingly has little or no bearing on your feet. Like back pain, shoulder pain, or fibromyalgia. What makes us different is that we take time to look at the whole body – the whole person – to find the cause of the pain or illness.
Our patients feel like whole human beings who are always well cared for, even pampered, when they visit. And they know they can come to us for so much more than just foot problems. That's because we are so much more than a podiatry practice.
Austin Foot & Ankle Specialists
We offer treatment for bunions, hammertoes, diabetic foot ulcers, heel pain, toenail fungus, toe problems, foot injuries, ankle pain, feet hyper perspiration, feet sensitivity, feet deformities, foot mal-alignment, feet odor, fungus infection of the feet. Foot and Ankle Surgery in many cases can be performed at a same-day outpatient surgical center setting requiring no hospitalization. Our podiatrist office accepts most insurances including medicare and we have convenient evening and Saturday appointments available.
When should you see an Austin Podiatrist / Foot Doctor?
Sometimes, your first inclination is to ignore foot or ankle pain, hoping it will go away on its own. However, how do you know when it's time to call a podiatrist? Check out the following information for tips on when your pain is serious enough to warrant a call to the doctor.
If you notice changes on your feet, such as cracked or peeling skin, blisters or other noticeable changes to your skin or nails, it's time to call the podiatrist for an evaluation. Additionally, persistent pain of any kind that does not abate after two weeks means you should be checked out by your foot doctor.
Bacterial infections of cuts or cracks on the foot are serious, especially in people who also suffer from diabetes. These infections require treatment by a podiatrist and can cause a number of symptoms including red streaks on the skin of your foot, discharge of pus from cuts or cracks, pain, swelling, sensitivity to cold or heat, a fever of 100 degrees or higher that has no other obvious cause, or a noticeable spread of infection to surrounding skin or other areas of the foot, including toenails.
Heel pain in particular should be evaluated by a podiatrist, especially if it occurs along with a fever, warmth, or swelling of the foot and sensations of numbness or tingling in the heel. If you experience heel pain that cannot be reduced by over-the-counter medications, ice, or elevation, schedule an appointment with your foot doctor as soon as possible.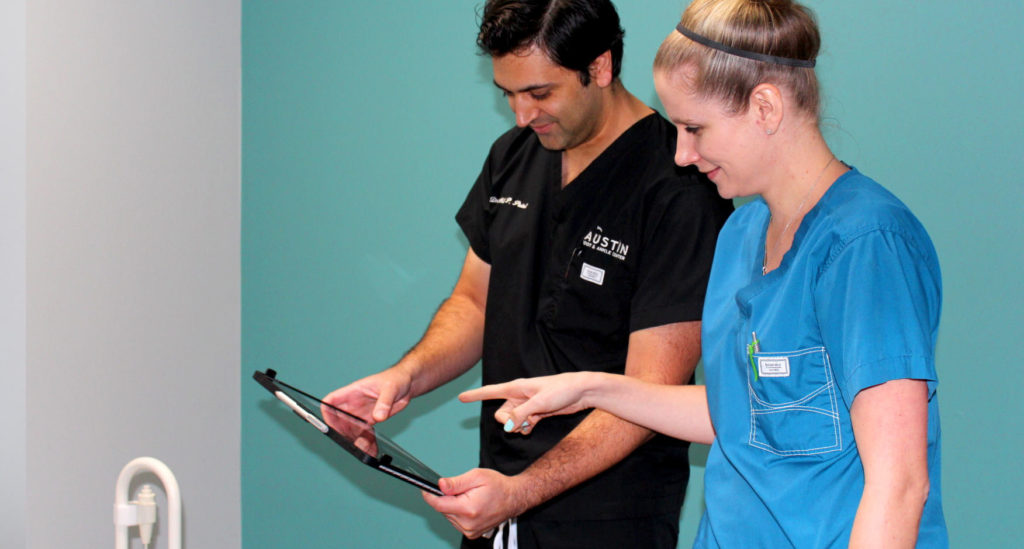 In addition to the common reasons to visit a podiatrist, here are some issues that could point to a serious issue:
You have noticeable changes to your nails or skin.
Your feet are severely cracking, scaling, or peeling.
There are blisters on your feet.
There are signs of bacterial infection, including:
Increased pain, swelling, redness, tenderness, or heat.
Red streaks extend from the affected area.
Discharge of pus.
Fever of 100°F(37.78°C) or higher with no other cause.
Symptoms that do not improve after two weeks of treatment with a non-
prescription product.
Spreading of the infection to other areas, such as the nail bed, or skin under the
nail, the nail itself, or the surrounding skin.
Your toenail is getting thicker and causing you discomfort.
You have heel pain accompanied by a fever, redness (sometimes warmth) or
numbness or tingling in your heel, or persistent pain without putting any weight or
pressure on your heel or the pain is not alleviated by ice, aspirin, (or ibuprofen or
acetaminophen).
You have diabetes or certain diseases associated with poor circulation and you develop athlete`s foot. People with diabetes are at increased risk for a severe bacterial infection of the foot and leg if they have an athlete's foot.
Why Choose Austin Podiatry
Here are five reasons why you should choose us:
We are driven to give every patient the healthiest and best-looking feet possible.
We have delivered complete foot care solutions to patients for almost ten years and our patients continue to recommend us to their friends.
Every week, we work to stay on top of all new developments in podiatry. Our goal? To provide you with the best most technologically advanced foot care available today.
We're dedicated to making your foot care experience the best possible.
We treat you like family.
Foot Problem Facts
1/4 of all the bones in the human body ARE IN YOUR FEET. If they are out of alignment, so is the rest of your body.
3 out of 4 Americans experience serious foot problems in their lifetime.
The foot contains 26 bones, 33 joints, 107 ligaments, and 19 muscles.
Only a small percentage of the population is born with foot problems.
It's neglect and a lack of awareness of proper care – including ill-fitting shoes – that bring on problems.
Arthritis is the number one cause of disability in America. It limits everyday dressing, climbing stairs, getting in and out of bed or walking – for about 7 million Americans.
There are 250,000 sweat glands in a pair of feet. Sweat glands in the feet excrete as much as a half-pint of moisture a day.
The two feet may be different sizes. Buy shoes for the larger one.
Quality Care
When you have problems with your feet, you need to turn to a podiatrist who listens and responds … an experienced doctor who knows the field and can effectively diagnose and treat your needs … a friendly physician who counsels you on the best ways to maintain and improve your health. Our staff meets all these criteria. You benefit from doctors that have had more than 40 years of experience in podiatric medicine and who are able to give you individualized attention.
Informed Patients
Austin Podiatry Centers believes that informed patients are better prepared to make decisions regarding their health and well-being. That is why we've included an extensive section on this website covering the full array of topics associated with podiatry and podiatric diagnoses and treatments. We encourage you to look through these pages whenever you have an interest or concern about your feet.
Comfortable, Convenient Setting
The best care in the world doesn't mean anything if you can't access it. At Austin Podiatry Centers, we strive to make our Austin TX office as efficient and convenient as possible. Included in these web pages is information about Austin Podiatry Centers' office, including our Round Rock and Austin locations, maps, directions, hours, insurance policies, and appointment scheduling.
We hope you find this website useful and invite you to contact us with your questions at any time.