Certain conditions at work can lead to foot injuries on the job. It's important to recognize when your foot injury is serious and seek treatment from a podiatrist, so keep reading to learn more about work-related foot injuries and how to prevent them.
Types of Work-Related Foot Injuries
Most foot injuries in the workplace can be separated into one of two categories. The first is foot injuries resulting from some kind of trauma or accident, meaning blows to the foot or sprains, strains, punctures, and lacerations. The other category involves foot injuries caused by falls, slips, and trips, injuring the foot or ankle.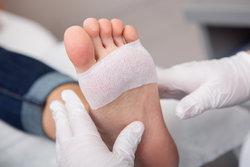 Other types of work-related foot injuries which cannot necessarily be categorized above include tired feet and other conditions such as athlete's foot, calluses, or ingrown toenails that can result from long hours on your feet and improperly-fitted footwear. Work-related foot and ankle injuries can also result in other conditions such as arthritis and fallen arches when you spend too much time on your feet.
Avoiding Work-Related Foot Injuries
Having the right knowledge and tools can help avoid foot and ankle injuries on the job. It's important to talk to your podiatrist if you have any special needs, including those due to previous problems with your feet or ankles, or even a previous injury. Getting the right type of footwear for your job is important, as the right shoes can provide support and guard against slips and trips, which could send you to the foot doctor. Additionally, if it's possible to rotate jobs or change your position or posture over the course of the day, it can help significantly with reducing your risk of work-related foot injuries.
Foot injuries can be serious, resulting in missed work and trouble living the lifestyle you want. Visit Austin Podiatry Centers, where our foot and ankle doctors can help to relieve or prevent workplace-related injuries of the feet and ankles.